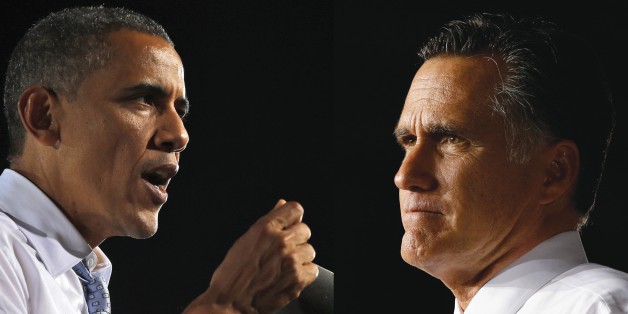 Beyond the campaign promises, even beyond the election, a healthy dose of reality is approaching. I would argue it is a bigger pill to swallow than in previous elections. This is much less about singing the praises of either candidate and more about signaling to rank and file members of both parties what to expect beginning November 7, 2012.
Specifically, not a lot.
If President Obama is re-elected, there is no interruption in the ongoing economic recovery or added uncertainty abroad as to the direction of America's foreign policy. In a way, that's the good news.  (Think President Obama keeping Robert Gates as Secretary of Defense and keeping the Bush tax cuts.)   But not only that, there aren't a slew of contentious confirmation hearings to install a completely new cabinet. In short, for supporters of President Obama, you would get to see him try to finish the job of restoring the country's economic status. But let's be clear, with a second term Obama supporters should expect more Republican obstruction and even (baseless) threats of impeachment (re: Benghazi). Given that good old fashioned democracy would have then failed in removing President Obama, expect the next best thing…impeachment politics.
A re-election of President Obama will not in any way deter or dissuade the opposition from the policies and practices employed during the first four years. If you were frustrated during the first term, you will continue to be frustrated during the second. If you're hoping that a second term will encourage Republican opposition to relent, I'm here to tell you it won't happen.
Senator Mitch McConnell said during the first term that the (Republican) goal was to  "deny President Obama a second term."  You can best believe the goal will be at the beginning of a second term is to find a way to remove him before that second term ends. Unfortunately, we now live in a country where many of its elected leaders don't root for America's success, they root for the failure of the opposition party; even if it means sending the country to hell in the process.
[youtube http://www.youtube.com/watch?v=W-A09a_gHJc]
Both parties recognize the fact that whoever wins this election will receive the credit for a greatly improved economy as it continues to naturally correct. A greater recession requires a longer correction, but nevertheless the economy continues to improve and whoever should sit in the Oval Office come January of 2013 will reap the benefits in the coming years.  To the victor go these economic spoils.
For the Democrats it means setting the stage for an Obama administration successor. For the Republicans, this election may mean easily walking into re-election. In many ways, this election is more about laying the groundwork for 2016 and getting in on the ground floor of the economy elevator on the way up.
Nevertheless, a Republican administration will have its own set of unavoidable problems and obstacles awaiting it. Gov. Romney along the way has held fast to two specific promises; "repeal ObamaCare day one" and also encouraging a bi-partisan move forward, "sitting down with Democratic leaders," also on day one.
[youtube http://www.youtube.com/watch?v=IIJ38FhEJFA]
Let's highlight the obvious; these actions (both supposedly on day one) are mutually exclusive. If "President Romney's" first act to encourage "a bi-partisan path forward" is championing a purely partisan repeal of the Affordable Care Act (ACA), you can kiss any real bi-partisanship goodbye until 2020.   It's one or the other.  You can be partisan or bi-partisan…not both.
Republicans have attempted to repeal the Affordable Care Act more than 30 times. Each time they failed, thanks largely to insufficient votes in the Senate. After November 6, it is highly unlikely the Republicans will gain control of the Senate; and definitely not have a filibuster-proof majority of 60.  The ACA status quo would remain. Either "President Romney" will attempt to keep his repeal promise and usher in another 2 years of partisan gridlock for the 113th congress or he will break his primary campaign promise and let it go altogether; offending his base. Depending on how cynical you are, breaking a campaign promise doesn't matter after getting elected.  Voters typically have short memories.  But, for those of the opinion that the ACA is going to go away with the election of Mitt Romney, you will be horrendously disappointed.
Horrendously. Please see civics 101.  If it could have been repealed, it would have been repealed by now.  None of that changes November 7.
What Gov. Romney also forgot to tell voters on the campaign trail is that pledging to repeal "ObamaCare" day one, means that he will go through both hell and high water during Democrat-controlled Senate confirmations of his cabinet (simple majority) on day 2,3,4,5  and 6. Click on the link to use recent history as your guide.
In addition, a Romney administration will not realistically be able to sign off on any legislation (economic or otherwise) until the last days of January, maybe first part of February or later if obstructionism plays a role.  Meaning, those of you wishing for an economic change of course will have to wait a minimum of four months from the date of this editorial to feel the results of any Romney legislative action. Maybe even more, if Democratic obstructionism strikes back with the same ferocity in a show of retribution. Going even further, this also assumes the economy continues to improve with no help from lame duck Obama administration in-between time from early November to late January. It's a four-month wait, assuming no economic setbacks or obstructionism.
Good luck with that assumption.
It may sound good on the Republican campaign trail to pledge to undo the signature legislation of the previous Democratic administration, but it's horrible politics to actually try to do it.  Campaigning and governance are not the same thing.  As I said earlier, it's partly why President Obama continued the Bush tax cuts and did not remove Robert Gates as Secretary of Defense.  Republican obstructionism which may lead to a changing of the guard doesn't encourage bi-partisanship, it engenders lingering political animosity and has a price attached.
A win November 6 for Mitt Romney likely ensures four years of political payback from the Democrats. Four years now of Republican complaints regarding Democratic obstruction, while gleefully abdicating responsibility for their party's actions from 2009 – 2012 during the Obama administration. Yes, I know…"that's politics."
Just know that it is coming if Romney should win.
There are those voters out there who are genuinely disappointed in the Obama administration. Some will vote for the president to have a second term, others will choose to turn over the country to Gov. Romney. What troubles me the most is that we have done nothing to fix our broken political system which has been shamelessly manipulated for partisan political interests for far too long; not working for the greater good.
Come November 7, we'll get more of the same. Because it's not about whether the person in the Oval Office is failing us, it's failing to recognize our political system failed us first.
The Mo'Kelly Report is a syndicated politics and entertainment journal. Visit http://mrmokelly.com for the latest from Mr. Mo'Kelly. Tune into The Mo'Kelly Show Saturdays from 6-8pm PDT on KFI AM640 and XM 166 Saturdays and Sundays from 8pm-9pm PDT. Contact Mo'Kelly at mrmokelly@gmail.com.
Follow Mo'Kelly
Share
About Author
(1) Reader Comment