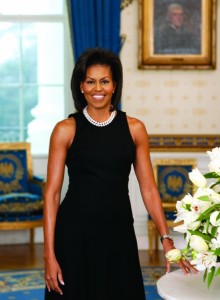 According to the San Luis Obispo newspaper, the Tribune, an announcer during a Creston Classic Rodeo offended many in the stands after making a joke comparing the current first lady to the wife of presidential challenger Mitt Romney. The paper reported:
An announcer at the Creston Classic Rodeo offended some in the audience Saturday when he made a racist joke about first lady Michelle Obama over the PA system. Now, at least one rodeo board member is demanding an apology.

"I was really appalled and the people around me were really appalled," said spectator Dona Wilson of Santa Margarita. "He was acting like we were buying into his bigotry and we weren't."
Wilson said she heard a lady beside her say: " 'Whoa! Racist or what?' "

According to Wilson, the joke as told by the announcer, went something like this: Playboy is offering Ann Romney $250,000 to pose in the magazine and the White House is upset about it because National Geographic only offered Michelle Obama $50 to pose for them. "I can't speak for the board, but I myself think that this is unacceptable behavior or conduct by the announcer," said Mike Barrett, Creston Classic Rodeo board member. "I find it offensive, and I think that it's conduct unbecoming the rodeo announcer."
Full story HERE
The Mo'Kelly Report is a syndicated politics and entertainment journal. Visit http://mrmokelly.com for the latest from Mr. Mo'Kelly. Tune into The Mo'Kelly Show Saturdays from 6-8pm PDT on KFI AM640 and XM 166 Saturdays and Sundays from 11pm-midnight PDT. Contact Mo'Kelly at mrmokelly@gmail.com.
Follow Mo'Kelly
Share
About Author
(0) Readers Comments