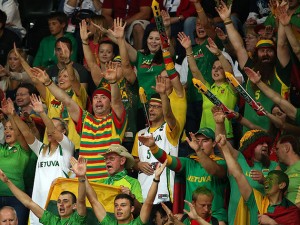 The 36-year-old fan, who has not been identified, was arrested "on suspicion of a racially aggravated public-order offence," according to a Scotland Yard spokesman. It is just the latest among several racially tinged incidents to have arisen in London over the past week.
First, Greek triple jumper Voula Papachristou lost her shot at competing in the games after posting a tweet about Africans and the West Nile virus; several days later, Swiss soccer player Michel Morganella was sent away following a discriminatory tweet about his South Korean opponents. And now, monkey chants.
According to the Evening Standard, the undercover operation that eventually nabbed the 36-year-old fan was initiated following multiple public complaints "about the behaviour of a small section of Lithuania supporters during a match against Argentina on Sunday," which included what appeared to be a fan (reportedly the same one later arrested) directing a Nazi salute at two black volunteers.
Story HERE.
The Mo'Kelly Report is a syndicated politics and entertainment journal. Visit http://mrmokelly.com for the latest from Mr. Mo'Kelly. Tune into The Mo'Kelly Show Saturdays from 6-8pm PDT on KFI AM640 and SiriusXM 166 Saturdays and Sundays from 8-9pm PDT. Contact Mo'Kelly at mrmokelly@gmail.com.
Follow Mo'Kelly
Share
About Author
(0) Readers Comments