From The Hollywood Reporter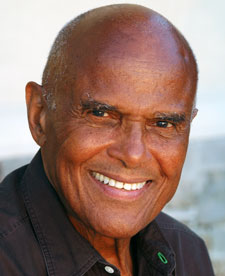 THR: Back to the occasion of the award for your acting career. Are you happy with the image of members of minorities in Hollywood today?
Belafonte: Not at all. They have not told the history of our people, nothing of who we are. We are still looking. We are not determinated. We are not driven by some technology that says you can kill Afghans, the Iraqis or the Spanish. It is all — excuse my French — shit. It is sad. And I think one of the great abuses of this modern time is that we should have had such high-profile artists, powerful celebrities. But they have turned their back on social responsibility. That goes for Jay-Z and Beyonce, for example. Give me Bruce Springsteen, and now you're talking. I really think he is Black.
Full story HERE.
The Mo'Kelly Report is a syndicated politics and entertainment journal. Visit http://mrmokelly.com for the latest from Mr. Mo'Kelly. Tune into The Mo'Kelly Show Saturdays from 6-8pm PDT on KFI AM640 and SiriusXM 166 Saturdays and Sundays from 8-9pm PDT. Contact Mo'Kelly at mrmokelly@gmail.com.
Follow Mo'Kelly
Share
About Author
(0) Readers Comments