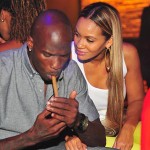 And with it, she smashes Kim Kardashian's record of 72 days for remaining in a sham marriage, with a new record "low" of 41 days.
NEW YORK — Evelyn Lozada is ending her 41-day-old marriage to Chad Johnson after the football star was arrested for allegedly head-butting her over the weekend.
Danika Berry, a rep for the VH1 reality star, confirmed reports that Lozada filed for divorce on Tuesday.
Earlier, Lozada issued a statement saying Johnson — cut by the Miami Dolphinsafter the Saturday arrest — "needs help." She also said that he was lying when he told police she head-butted him.
The two were married July 4 after their courtship was detailed on VH1′s "Basketball Wives." Their nuptials were to be part of the VH1 reality show "Ev & Ocho," but it's now been shelved.
The altercation allegedly occurred after Lozada questioned him about a receipt for condoms that she found.
On Tuesday afternoon, Johnson released a statement:
I would like to apologize to everyone for the recent events that have occurred. I would like to wish Evelyn well and will never say anything bad about her because I truly love her to death. I will continue to be positive and train hard for another opportunity in the NFL. To all the fans and supporters I have disappointed, you have my sincerest apologies. I will stay positive and get through this tough period in my life."
ESPN story HERE.
The Mo'Kelly Report is a syndicated politics and entertainment journal. Visit http://mrmokelly.com for the latest from Mr. Mo'Kelly. Tune into The Mo'Kelly Show Saturdays from 6-8pm PDT on KFI AM640 and SiriusXM 166 Saturdays and Sundays from 8-9pm PDT. Contact Mo'Kelly at mrmokelly@gmail.com.
Follow Mo'Kelly
Share
About Author
(2) Readers Comments