Not that what Jones says is untrue…there is likely some truth to it.  I'm just
more surprised the manner in which Jones is choosing to make news as of late.  Not sure if she is positioning herself for a talk show gig, but it sure seems like it.
______
Star Jones said on national television this morning that she believes Anderson Cooper announced he was gay to help improve ratings for his daytime talk show.
Jones made the remarks as part of a panel on the Today show after Cooper revealed his sexual orientation this week.
Jones said Cooper broke the news that he was gay in the same manner Oprah Winfrey did when she said she smoked crack because their shows need a bump in ratings.
________
"[Cooper is] a daytime talk show host and when the rating slip in daytime, the hosts tend to tell you lots of things about them.
"I remember Oprah said she smoked crack, Oprah said she was pregnant at 14 and considered suicide,' Jones said. 'There [are] times when you generate information for ratings."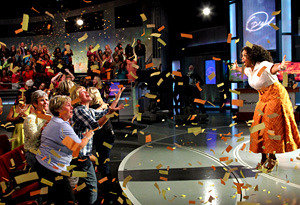 Jones jokingly attempted to show remorse for her statement with a sarcastic, "Whoa, I'm sorry that I said that."
Winfrey had her own dramatic coming out moment in 1995 when she addressed her troubled youth in a conversation with guests plagued by drug addiction:
"Let me say this, and this is probably one of the hardest things I've ever said," [her] voice beginning to crack. "Hold on just a second," she said as she tried to regain her composure.Turning to one of the guests who had admitted smoking crack, Winfrey said, "I relate to your story so much because of what Patrice just said about being introduced to drugs by men in your life."

She continued, "In my 20′s, I'd done this drug and I know exactly what you are talking about." She said the drug use occurred while she was an anchorwoman on a television news show.

"It's my life's great big secret. It was such a secret because–I realize (with) the public person I have become–if the story ever were revealed, the tabloids would exploit it and what a big issue it would be."

She went on to explain, "But I was involved with a man in my 20s who introduced me to the same drug that you've been talking about and, like Patrice, I always felt that the drug itself is not the problem but that I was addicted to the man." She admitted: "I can't think of anything I wouldn't have done for that man."
Full story HERE.
The Mo'Kelly Report is a syndicated politics and entertainment journal. Visit http://mrmokelly.com for the latest from Mr. Mo'Kelly. Tune into The Mo'Kelly Show Saturdays from 6-8pm PDT on KFI AM640 and Sirius XM 166 Saturdays and Sundays from 8-9pm PDT. Contact Mo'Kelly at mrmokelly@gmail.com.
Follow Mo'Kelly
Share
About Author
(0) Readers Comments