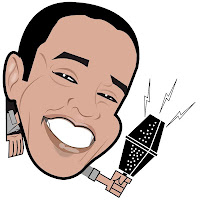 For a man who refers to himself in the third person, Morris William O'Kelly is truly having an "out-of-body" experience.
He's better known as "Mo'Kelly," a syndicated columnist and radio host at KFI (AM-640) in Los Angeles.
Last weekend, his radio program–"The Mo'Kelly Show" debuted on XM 166. For him, it was a culmination of hard work and dedication to his craft as a 20-plus year veteran. But the road to success has been a lengthy one for the 42-year-old Georgetown alum.

See the full story HERE.
The Mo'Kelly Report is a syndicated politics and entertainment journal. Visit http://mrmokelly.com for the latest from Mr. Mo'Kelly. Tune into The Mo'Kelly Show Saturdays from 6-8pm PDT on KFI AM640 and Sirius XM 166 Saturdays and Sundays from 8-9pm PDT. Contact Mo'Kelly at mrmokelly@gmail.com.
Follow Mo'Kelly
Share
About Author
(0) Readers Comments