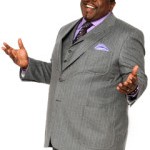 Be sure to listen in Saturday night as Cedric the Entertainer will be the featured guest on The Mo'Kelly Show, discussing his role as Rev. Boyce "The Voice" Ballantine on the new TV Land sitcom, The Soul Man and voicing the character of "Maurice" in the new animated feature Madagascar 3: Europe's Most Wanted.  Hear him detail his journey from State Farm adjustor to major television and film star.
That and more on The Mo'Kelly Show, Saturday evenings from 6-8pm PDT on KFI AM640, streaming live at iheartradio.com (search "KFI").  Also now on SiriusXM 166 "America's Talk" at 8pm PDT.
The Mo'Kelly Report is a syndicated politics and entertainment journal. Visit http://mrmokelly.com for the latest from Mr. Mo'Kelly. Tune into The Mo'Kelly Show Saturdays from 6-8pm PDT on KFI AM640 and Sirius XM 166 Saturdays and Sundays from 8-9pm PDT. Contact Mo'Kelly at mrmokelly@gmail.com.
Follow Mo'Kelly
Share
About Author
(0) Readers Comments