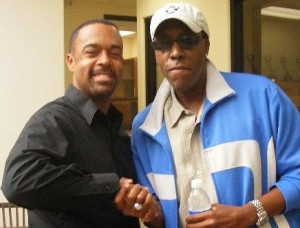 The new show has already been picked up by 17 of the top 20 markets and is scheduled to launch in the fall of 2013 and will be a Monday-Friday format. Arsenio Hall was an iconic figure in the '90s. It was there that President Bill Clinton stopped by to woo the Black vote with his shades and saxophone.
"We're excited to welcome Arsenio back to the family and partnering on his new, late-night syndicated talk show," CBSTVD president John Nogawski said in announcing the news Monday. "Arsenio had a substantial following with his previous late-night show, and that same 18-34 audience is now right in the middle of the late-night core audience of 35-54. Years ago, he transcended time periods and attracted a crossover audience while bringing a fresh perspective to late night. That same need in the market exists today as when we originally launched. We are looking forward to the same success with Arsenio's seasoned expertise and appeal in this genre."
The Mo'Kelly Report is a syndicated politics and entertainment journal. Visit http://mrmokelly.com for the latest from Mr. Mo'Kelly. Tune into The Mo'Kelly Show Saturdays from 6-8pm PDT on KFI AM640 and Sirius XM 166 Saturdays and Sundays from 8-9pm PDT. Contact Mo'Kelly at mrmokelly@gmail.com.
Follow Mo'Kelly
Share
About Author
(1) Reader Comment