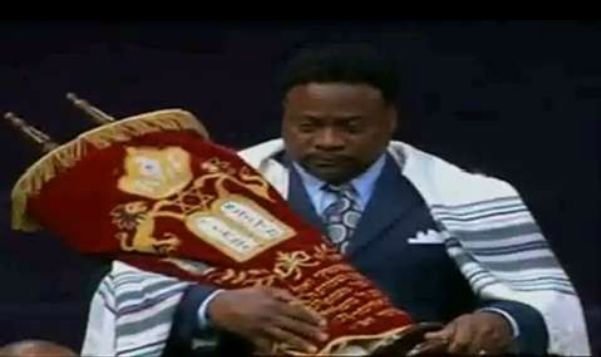 From Atlanta Journal Constitution:
A ceremony held Sunday at New Birth Missionary Baptist Church, in which Bishop Eddie Long was wrapped in a sacred Torah scroll and carried upon a throne, has the Internet abuzz and Jewish religious leaders offended and questioning its appropriateness.
"He's a king. God has blessed him," said Rabbi Ralph Messer before covering Long in a scroll "[that] may still have the dust of Auschwitz and Birkenau." Messer referred to the Nazi extermination camps in Poland where millions of Jews were murdered during the Holocaust.
A Torah's use in a ceremony ordaining Long as "a king" is offensive to many Jews, said Bill Nigut, Southeast Regional Director of the Anti-Defamation League.
The ceremony at Long's Lithonia church, viewed more than 139,000 times on YouTube, "in no way represents any Jewish ritual that I'm familiar with," Nigut said. "We do not proclaim individuals to be kings."
Messer, who has no formal rabbinical training, said his parchment, a handwritten copy of the holiest book within Judaism, was 312 years old.
His mention of Auschwitz-Birkenau implied the scroll was one of those recovered from the death camps when they were liberated by the Allies toward the end of World War II.
It's impossible to authenticate Messer's claim without examining the texts up close, said Rabbi Joshua Heller of Congregation B'nai Torah in Sandy Springs. While rare, Torahs can be easily purchased, even on eBay, he said.
Messer's son, Minister Russell Messer of Simchat Torah Beit Midrash in Parker, Colo., said his father purchased the parchment and relied on the word of its seller regarding its provenance. "It came through that generation of Europe," the younger Messer said.
Russell Messer said that in the next two days, his father plans to post on his organization's website the full video of his sermon along with additional comments regarding Sunday's service.
When asked for comment about the event, New Birth emailed a statement Thursday in which Ralph Messer said critics misunderstood his intent.
"My message was about restoring a man and to encourage his walk in the Lord," Messer said. "It was not to make Bishop Eddie L. Long a king."
The YouTube video indicates otherwise, Heller told the AJC.
"We wouldn't wrap a Jewish person in a Torah scroll and declare him king," he said. "As a Jew, I find that use of symbols very off-putting."
The messenger is as controversial as the message, Jewish leaders say.
Ralph Messer, according to a biography on his organization's website, is "pioneering a work to bring the 'Good News' of Yeshua (Jesus Christ) in the Torah to the ends of the Earth." He is active in the Messianic Judaism movement, which fuses evangelical Christian beliefs with elements of Jewish tradition.
"The Jewish community does not associate itself with the Messianic congregations," Heller said. "We don't feel like this does due justice to either the Jewish or Christian community."
FULL STORY HERE
The Mo'Kelly Report is a syndicated politics and entertainment journal. Visit http://mrmokelly.com for the latest from Mr. Mo'Kelly. Contact him at mrmokelly@gmail.com.
Follow The Mo'Kelly Report
Share
About Author
(2) Readers Comments