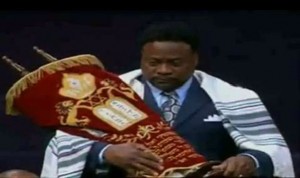 From CNN:
"The ceremony was not my suggestion, nor was it my intent, to participate in any ritual that is offensive in any manner to the Jewish community, or any group. Furthermore, I sincerely denounce any action that depicts me as a King, for I am merely just a servant of the Lord," Long wrote in a letter dated Saturday.
The letter was addressed to Bill Nigut, southeast regional director of the Anti-Defamation League — a Jewish group that fights anti-Semitism.
"While I believe that Rabbi Ralph Messer has good intentions during his message at New Birth, I understand that the ceremony he performed on Sunday, January 29th, caused harm to the Jewish community, for which I am deeply sorry," Long wrote.
Full story HERE.
The Mo'Kelly Report is a syndicated politics and entertainment journal. Visit http://mrmokelly.com for the latest from Mr. Mo'Kelly. Contact him at mrmokelly@gmail.com.
Follow The Mo'Kelly Report
Share
About Author
(1) Reader Comment