Can we finally talk about it now? Has enough time passed so we can in earnest address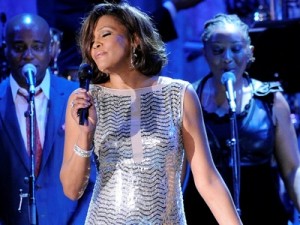 the more substantive issues? I would suggest that we've had more than enough time to forward Whitney's obituary to every friend we had, post every imaginable link to our "favorite" moments of her funeral. We surely had heard every conceivable argument as to why or why we shouldn't blame Bobby presently or previous to this moment regarding Whitney's demise.
Usually when we toss around the phrase "too soon," it is in relation to questionable jokes and semi-classless humor regarding the recently departed. Mo'Kelly had no idea it also applied to the more serious issues.
Can we finally address the issue of substance abuse, or is it still "too soon?"
Keep in mind, this is not just a "Whitney death" issue, it was a Michael Jackson issue. We can run the list. David Ruffin. Rick James, Teena Marie. And yes, it was a Vesta Williams issue too. Despite what some have mentioned in the press that Williams died because of an "enlarged heart," there was no autopsy or toxicology report released to support  the claim.
That was not by accident.
There was no acknowledgment of the obvious, that years and years of cocaine abuse (admitted by Williams)  inevitably leads to an "enlarged heart." There was no explanation of the very detailed hotel setting, complete with empty pill bottles found at the scene of her death either.
Are we ready to start telling the truth now?
And don't get Mo'Kelly started on Pastor Zachery Tims and the mother who is blocking the release of his toxicology report after her "former" addict son was found dead in a New York hotel room with a "powdery substance" on his person.
We enable the drug habits (both illicit and prescription) and when he/she/they die we are "shocked" and seek to blame the enablers while not recognizing them when we pass the mirror. We then want to make sure not to speak ill of the recently departed, whitewashing the truth of both their life and death.  If that weren't enough, we also try to browbeat and verbally annihilate those who aren't down with the revisionist history program.
Shortly after Whitney passed, a few media outlets approached Mo'Kelly to give remembrances and speak on her passing. I turned down each request because I had no desire to lie. That, and it was evidently "too soon" for some people to hear the truth.
Here's what I mean…
I interacted with/met Whitney Houston on only two occasions; the first was at 8:30 in the morning exactly 16 years ago to the day in 1996. While working for the Grammys (NARAS), Whitney and Cece Winans were rehearsing on stage for an upcoming Waiting to Exhale medley.
[yframe url='http://www.youtube.com/watch?v=hKszYRNlTXU']
Upon walking in Madison Square Garden, everyone in the house was instructed not to photograph or engage Whitney. A visibly hungover, crashing, sunglass-wearing, disheveled Houston stumbled through the rehearsal, complaining about the stage lights affecting her "headache."
There was no mistaking her condition…note the year of 1996.
The other time in which I spent time with Whitney (and Bobby) was in 2000. It was the album release party for "Mr. Dalvin," Dalvin Degrate…better known as the least known and least talented member of Jodeci. (Yes, he had his own album once upon a time.)
[yframe url='http://www.youtube.com/watch?v=kyDrlSnnpPM']
Anyone at the Playboy Mansion that night could tell you of both Whitney and Bobby stumbling around the party with odd, drug-induced behavior, often singing gospel songs back and forth…not quite remembering all the lyrics or recognizing the oddity of belting out gospel in the middle of the Playboy Mansion (of all places) to nobody in particular.
Those are my only two firsthand memories of Whitney Houston…drunk, hungover, high or some sordid combination of all three.  The outlets wishing to interview Mo'Kelly clearly weren't looking for those stories.
I only spoke with her twice in life and both times she was high.  I could lie and say she wasn't but lying is what indirectly led to her death.  It's time to start telling the truth.
Outsiders knew Whitney Houston was an addict ever since the infamous Diane Sawyer interview; two years after my final encounter with her. Music insiders knew she had been hooked for many, many years. As in, many years before Bobby Brown was in the picture.
[yframe url='http://www.youtube.com/watch?v=TEE0CZORZAg']
There is a verifiable history of abuse dating back to the mid 90s that I personally am aware. It likely was even longer. But it is safe to say we had at least 16 years to save her, and we failed. We spent more time hoping she'd divorce Bobby Brown, make a comeback or some well-timed combination of both.
And before you go there, anybody familiar with The Mo'Kelly Report knows that I had been tireless over the years in my attempts to get traction on issue of Whitney's addiction, to no avail. And it goes without saying, I've broached the subject a number of times with singer El DeBarge and Michael Jackson. This is nothing new.
Hopefully the response from our community will be (something new).
How many more of our favorite artists must die untimely deaths before our community has an honest and open discussion regarding addiction and its connection to mental health and depression?
The only earnest discussion regarding artists and addiction that I've seen on a national level was between Bill Maher and Dr. Drew Pinsky. Maybe the discussion is being had in our community, but it doesn't exist on both a national and substantive level.
[yframe url='http://www.youtube.com/watch?v=wfKT3o2af44']
So instead of finding fault with Bobby Brown for "Being Bobby Brown" or again forwarding copies of Whitney's obituary to everyone on your Facebook friend list, ask yourself…challenge yourself as to what you could have done differently in the past 10 years that might have saved Whitney.  What might you be able to do moving forward to save another one of our treasured artists?
If the only discussion we're willing to have is how drugs (illicit and prescription) or Bobby Brown ruined her career, then we've missed the point; and Whitney's death…and Rick James'…and Teena Marie's…and Michael Jackson's…and David Ruffin's…and Dorothy Dandridge's…and Billie Holiday's…and Vesta Williams'…and Phyllis Hyman's…and Ol' Dirty Bastard's…and Gerald Levert's…and Amy Winehouse et al. were all meaningless.
The Mo'Kelly Report is a syndicated politics and entertainment journal. Visit http://mrmokelly.com for the latest from Mr. Mo'Kelly. Contact him at mrmokelly@gmail.com.
Follow The Mo'Kelly Report
Share
About Author
(37) Readers Comments