What a joke.  Now…FINALLY he wants to act like he understands the distraction he has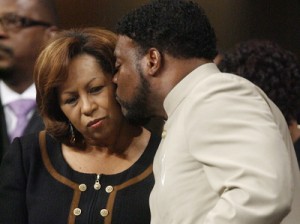 been and the lives he has adversely affected.  But even in "taking a leave" he remains defiant.  See below…
From AJC:
___________
Bishop Eddie Long is taking a brief leave from the church he transformed into one of the nation's biggest and most influential, telling congregants at New Birth Missionary Baptist Church Sunday he was going to use the time to heal his family.
"I'm still your pastor. You'll still receive my direction," Long said Sunday. "You've given me some weeks to take care of some family business."
Long's wife, Vanessa, filed for divorce late Thursday afternoon. She said Friday morning, via a statement prepared by the church's spokesman, that she had changed her mind but by day's end announced the divorce was on.
"Rumors that Bishop Eddie L. Long has stepped down as senior pastor of New Birth Missionary Baptist Church are completely false," according to a statement from the church. "As Bishop Long stated in his earlier comments, 'Vanessa and I are working together in seeking God's will in our current circumstances.' As any loving and committed husband would do, Bishop Long will take some time to focus on his family but he will continue to be the senior pastor of New Birth."
In remarks released Friday evening, Long said his love for his wife of 21 years is "deep and unwavering. It remains our sincere desire to continue working together in seeking God's will in these circumstances."
Long, with two of his children standing by his side, reaffirmed he had no plans to resign, adding he had not "stepped down" but instead "stepped up."
__________________
Whatever dude.  Stepping up would have been doing the right thing and/or not doing the criminal thing years ago.
Full story + video news report HERE.
The Mo'Kelly Report is a syndicated politics and entertainment journal.  Visit http://mrmokelly.com for the latest from Mr. Mo'Kelly.  Contact him at mrmokelly@gmail.com.
Follow The Mo'Kelly Report
Share
About Author
(1) Reader Comment