In a recent interview with Vibe magazine, the two-time felon rapper was asked his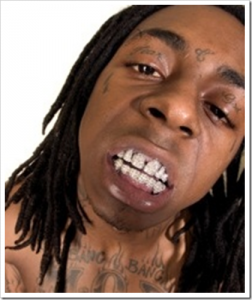 thoughts on the recent GOP debate.  To which he offered the following:
I feel like as a people the most that we can do is better ourselves and learn. Then look at yourself and ask 'Am I the person they're talking about or am I not?' You have to make the most of who you are because the Republicans are never going to like us."
First, only people who are not in jail and not on parole can vote in the state of New York…meaning Lil Wayne will not vote in 2012 and did not in 2010.
Secondly, even if he were eligible, do you really think Lil Wayne would be both registered and at the ballot box?
Really?
In truth, Lil Wayne is little different from the Tea Party…they are both in many ways ignorant and uninformed about the realities of Washington.
Why do we keep asking the least informed about issues of politics?  Yes, Mo'Kelly understands how journalists want their work to spread virally and asking rappers about politics is a surefire way to do it.
Bill O'Reilly and Sean Hannity will come calling soon, you can best believe.
But to skip over the MOST important and relevant information (such as his four children by four different women, arrests on drugs and gun charges and overall disrespect of women in his music)…just to get his meaningless opinion about a GOP debate he clearly did not watch, is piss-poor in nature.
Lil Wayne has opinions on the supposed disrespect of President Obama along the lines of race over the past 2.8 years, but is just fine with the relentless misogyny in his own music over the past 10 years of his career?
Vibe didn't feel the need to acknowledge the obvious contradiction and hypocrisy?  It's ok for him to refer to other Black men as N****s, but not ok for Republicans to engage in obstructionist politics with racial undercurrents?
Vibe didn't feel any inherent responsibility in pointing out the obvious there?
Answering a political question does not a priori rise to the level of astute political commentary.  Mo'Kelly has said a dozen times before and maybe will have to a hundred times more.  All men and women are created equal, but not all opinions.  Some are more informed than others.  Some are misinformed and others are wholly uninformed.  We must stop rewarding and elevating ignorance and serving it up as something supposedly informative or beneficial for our young people.
Record sales and music videos don't in any way validate one's politics or political musings.  Never have and never will.
Stop asking those hip-hoppers who are leading the race to the bottom what they think about politics, when they do not actively participate, espouse informed opinions or encourage voter diligence.
Hip-hop does not want Mo'Kelly's opinion on hip-hop and conversely, Mo'Kelly doesn't want hip-hop's opinion on politics.  Leave the heavy lifting to the trained professionals. Lil Wayne is free to wax poetic on all the jewelry, cars, drugs, misogyny, prison, wanton frivolity and Black self-hatred in which he is an expert.  Outside of that, leave the issues of serious importance and concern to those who actually care and are working for the improvement of the African-American community, not its debasement.
If Republicans don't like "us," fools like Lil Wayne clearly are adding zero to the equation on our behalf.
Full story HERE.
More from the interview HERE.

The Mo'Kelly Report is an entertainment journal with a political slant; published at The Huffington Post and EURWEB.com. For the most recent posts of Mr. Mo'Kelly, visit http://mrmokelly.com.  Mr. Mo'Kelly can be reached at mrmokelly@gmail.com.
Free Subscription to The Mo'Kelly Report HERE
Follow The Mo'Kelly Report on Facebook  HERE
Twitter – @mrmokelly
Share
About Author
(0) Readers Comments