UPDATE:  Full Court Docs HERE!
_________________________
Mo'Kelly wishes he saved all the emails in support of Mary Harvey he
received.  They were all from women and said Mary did the "right" thing by publicly blasting her former husband because he supposedly left her high and dry with no other alternative.
Most men gave Mary the side-eye and thought she was crazy, bitter or some sordid combination of both.   Mo'Kelly specifically thought that regardless of whether she was either, this was the wrong methodology if the "goal" was to gain an apology or custody of her son from Steve.  Invariably, the youtube videos and interviews she conducted would be used against her in court.
They were…
Not only that, her efforts would serve to harm her son Wynton, whom she supposedly cared most about and wanted in her life.
The end result was a fail of epic proportions.  Hat tip to bossip.com for this information.  (Double click on injunction photo below for a larger view.)  We won't be hearing from Mary Harvey anymore.  Maybe she can spend some alone time in one of her three houses to think about counseling or a good psychiatrist.
Nobody who receives $40,000 a month for four years, three houses AND a $1.5 million lump sum payout is a "victim" in this scenario.
Seems more likely that Mary did not manage her money or mortgages wisely.  That's a Mary problem, not a Steve one.  If you conduct TV, radio and internet interviews with absolute lies, you deserve to be publicly ridiculed.  Does this change whether Steve was guilty of infidelity?  Of course not.  But it is now proven that for the most part, Mary Harvey lied about being left destitute and should be publicly assailed accordingly.
There will be no apology from Steve and there will be no new custody agreement.  This was character assassination of the highest order by Mary.  Don't take Mo'Kelly's word for it, check the injunction.
A complete home run win for Steve.  The funniest part was #9…Mary can't even BREATHE a bad word about Steve, his current wife or his company within HEARING distance of Wynton.
BUWAHAHAHAHAHAHAHAH!
According to a new gag and restraining order, which you can see here, Mary Harvey was left neither broke nor homeless after the divorce. She received $40,000/month from Steve from the time of their divorce until March 2009, at which point she got a lump sum payment of $1.5 million. That's in addition to getting three houses in their divorce settlement.

As far as claiming that Steve turned their 13-year-old son against her, Judge Dry confirms that Steve was granted custody of the boy after Mary put him on a plane and sent him to his father without any notice.

Furthermore, the Judge confirmed that Steve's current wife Marjorie had absolutely nothing to do with his divorce from Mary.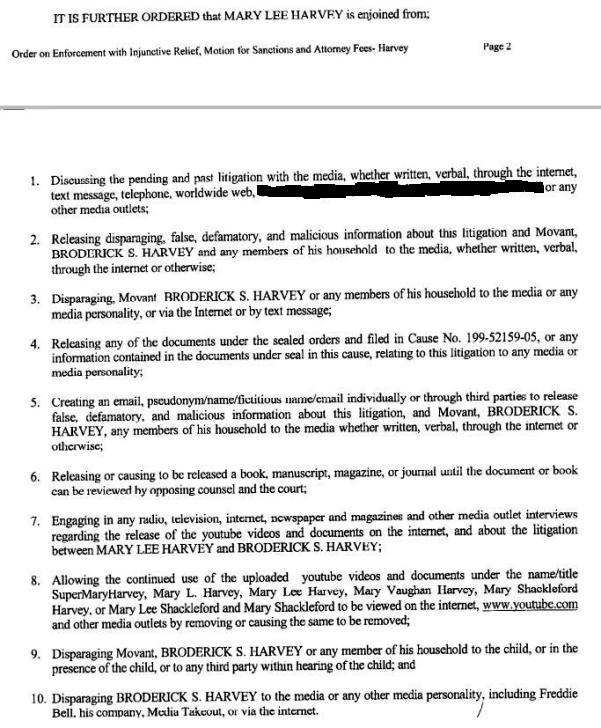 Share
About Author
(3) Readers Comments